"Are we loving our mountains to death?" When you get a question like this, you have to ask, is this true? If so, what can we do about it? Who cares? Our starting point was Alaska's Denali, first climbed over 100 years ago. Today this iconic peak is buffeted by user impacts and social challenges. Plus environmental threats, including increased rockfall, receding glaciers and a changing climate. As we learned at Sustainable Summits 2014, so too are Mt. Blanc, Mt. Fuji, Kilimanjaro, Bolivia's massifs, Antarctica's Vinson, and even Mt. Everest.
The Sustainable Summits Conference 2014 was an initiative to take on these challenges.
The 2014 Golden Colorado conference was led by American Alpine Club members and Denali National Park staff who brought people together from all over the globe. They were researchers, guides, mountaineers, parks managers, decision makers, and thought leaders who came to share their ideas and work in progress.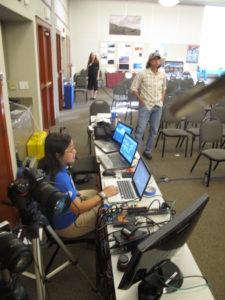 To foster ongoing collaboration and a bias for action, there were 100 attendees representing all 7 continents. This was a global event as all sessions were livestreamed and permanently posted online.
Building on our 2010 Exit Strategies Conference, "SS" not only covered human waste problems – these are universal – but also included solutions for energy, capacity management, leadership/decision making, and working with local people whose economic health is based on recreation. The Rocky Mountain National Park field trip showed a solar dehydrating toilet in action.
Two special evening programs were held: A Celebration of 100 years of Climbing on Denali/Mt. McKinley, and "The Everest Knot", a panel whose climbers, guides and leaders from Nepal discussed dealing with rapid changes.
"The momentum to protect our mountain continues," Christina Rinas wrote. "One of the best parts, echoed by many attendees, was the sense of community they felt. Bringing people together, whether for a one-day event or a long-term partnership, really can make a difference." Our ongoing challenge: protect the places we love to climb.